Emergency Management – Emergency Management
Community Preparedness SurveyPlease consider contributing to our short survey about your experience during the COVID-19. pandemic. We want to learn more about impacts in our community so we can help people be more prepared in the future as well as help inform future programming and messaging. If you would like assistance completing the survey, please…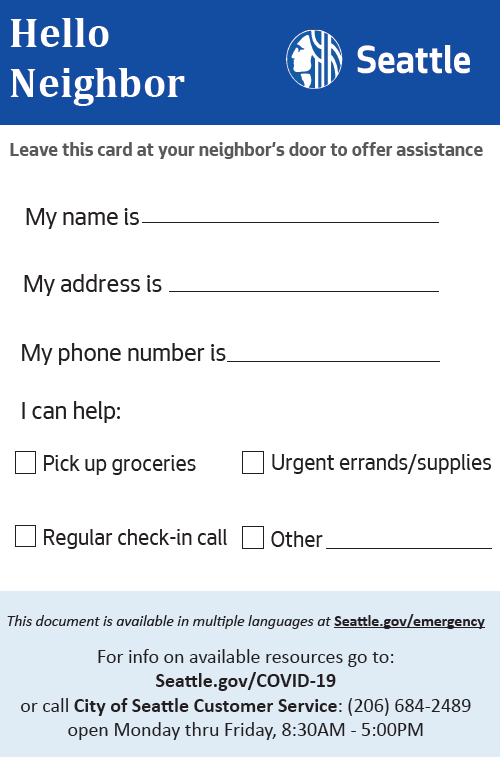 Community Preparedness Survey
Please consider contributing to our short survey about your experience during the COVID-19. pandemic. We want to learn more about impacts in our community so we can help people be more prepared in the future as well as help inform future programming and messaging. If you would like assistance completing the survey, please call us between the hours of 8:00AM – 4:00PM, Monday – Friday, or email oem@seattle.gov. SURVEY CLOSES 8/31/2020.
The survey is available in the following 13 languages:
Safely Helping Neighbors During COVID-19, Wildfire Smoke, and Extreme Heat
While COVID-19 is still present in our community, it is important for those most vulnerable to stay at home to avoid exposure. As we enter July, we are also more likely to experience extreme heat events or poor air quality as the result of wildfire smoke.  Heat and smoke might also require older adults or people with existing health conditions to stay at home.
Many people staying at home could use a helping hand! Offer to go grocery shopping or run other errands for those remaining at home, or simply offer to check-in with a regular phone call. Use our Hello Neighbor cards to offer help to those remaining at home. A little bit goes a long way! Available in multiple languages! 

Novel Coronavirus (COVID-19) Information
A new coronavirus emerged in Wuhan, China in December of 2019 and is currently referred to as novel coronavirus, or COVID-19. Novel coronavirus is very concerning because it's new to humans and because it can cause serious infections, including pneumonia.
At this time, the risk to the general public locally is considered to be low, given that there is only one case identified in Washington. To see full test results for King County and Washington State (including the number of people under investigation and public health supervision) please visit the Washington State Department of Health's Coronavirus Disease 2019 outbreak page. For a fact sheet about response in King County visit Public Health Seattle / King County's FAQ page.
The City of Seattle has been planning and preparing for COVID-19 since mid-February.  Our planning efforts build from existing plans and focuses our efforts to ensure we are ready to operationalize our COVID-19 plans.  Areas we are focused on include:  Continuity of Operations Plans (COOPS) and how we maintain critical city services; ensuring our city workforce is resilient; developing a plan to manage COVID-19 impacts to those experiencing homelessness and other vulnerable populations; having plans to support employees' work thru information technology systems/platforms; developing a plan for how the city can assess economic impacts to the community; and having an operational action plan when we do need to respond to COVID-19 in our community.
The Washington State Department of Health has established a call center to address questions from the public. If you have questions about what is happening in Washington, how the virus is spread, and what to do if you have symptoms, please call 1-800-525-0127 and press #
For LANGUAGE ACCESS MATERIALS around COVID-19 please visit the Office of Immigrant and Refugee's blog page at the following link: OIRA blog
2019 Seattle Office of Emergency Management Annual Report
View our 2019 Annual Report and learn about all of our accomplishments during the last year. 2019 was a busy year, with major updates to plans, new public education efforts, and most of all SNOW! We look forward to a new year of preparing our city!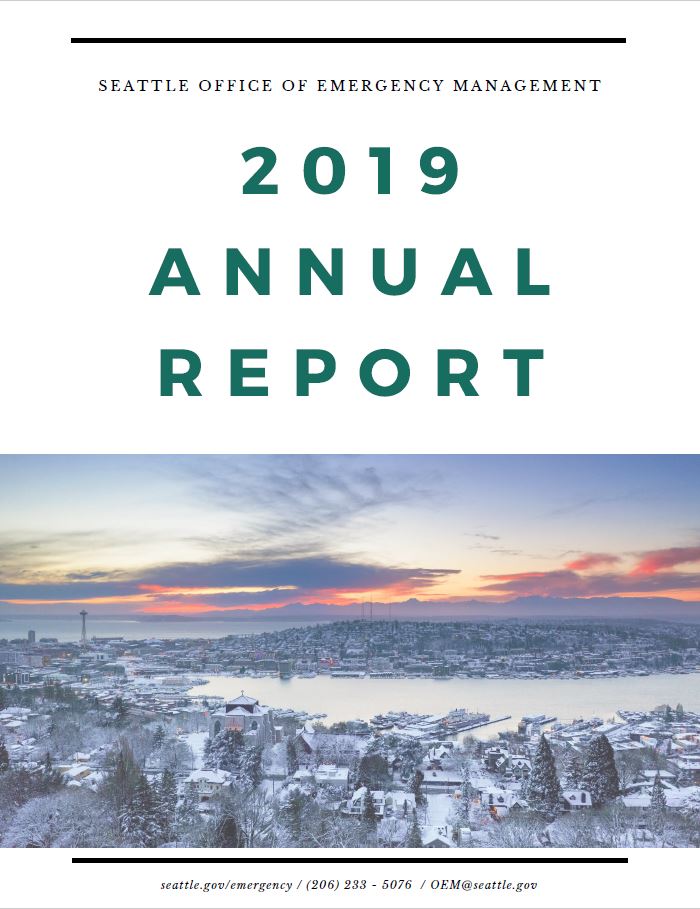 August 2019 Housing Recovery Seminar
The Seattle Office of Emergency Management hosted a Housing Recovery Seminar in August of 2019. Christa López, Director of Housing Recovery for the Texas General Land Office, and Sarah Labowitz, Assistant Director of Policy and Communications with City of Houston's Housing and Community Development Department, discussed lessons learned from short and long-term housing recovery activities following the impacts of Hurricane Harvey. Watch the full seminar to learn about lessons from Hurricane Harvey and how those lessons could be applied in Seattle following a catastrophic earthquake.